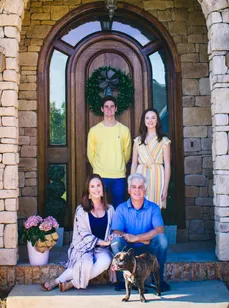 Richard Vizzini D.C.
Growing up in a large, military family, I've lived throughout our beautiful country and in Japan. I'm so proud that my family eventually put down roots in Middle Georgia and that I've had the privilege of calling Warner Robins home for over 40 years now.
I am a graduate of Warner Robins High School and received undergraduate degrees from both Macon College and the University of Georgia before earning my Doctorate in Chiropractic from Life University in Marietta, GA in 2001.
I reside in Kathleen with my wife, Dayna, and our two children. When not at the clinic, I enjoy fishing, cheering on the Georgia Bulldogs, and outdoor activities with family and friends.
I take your decision in selecting me as your chiropractor very seriously. I personally feel chiropractic care is the most valuable form of healthcare available. Chiropractic care focuses on the relationship between the spine (the center of the nervous system) and the overall wellbeing of the entire body. Chiropractors put nothing into the body and take nothing out. The less stress put on the body the quicker it will heal. I am passionate about being able to use chiropractic care to benefit the physical well being of so many people. It is my mission to provide affordable, high quality health care to people young and old. I strive to have an open relationship with all of my patients and hope you won't hesitate to ask any health related questions while under care in my clinic.
---
---